Spices are fruits, roots, barks, seeds, or any other plant material used for seasoning, coloring, or preservation of food. Antimicrobial qualities are common in spices, and they are sometimes crushed into powder for ease of use. Spices are mostly utilized in religious rites, medicine, fragrances, cosmetics, as well as vegetables. Today we consume many of these spices in the food that we eat. Today we will explore several spices and how they can negatively affect us if we consume too much.
The History of Spices
Spices have been tied to cultural customs, preservation, and medical use from the dawn of time. Spices were a significant part of India's commerce with China, Sumeria, Egypt, Arabia, and Mesopotamia around 7000 years ago.
Spices originated in India, and nations from all over the world embarked on lengthy and risky sea voyages to get many sorts of spices from the Indian subcontinent throughout ancient times. Many wars occurred to gain control of India's trade routes, allowing the supply of spices to continue uninterrupted. India is presently the world's greatest spice exporter.
MSG
MSG (monosodium glutamate) is a flavor enhancer commonly found in savory meals, particularly in Asian cuisine. It includes sodium, but only about a third of what you'd receive from a teaspoon of salt.
History of MSG
A Japanese scientist called Kikunae Ikeda discovered monosodium glutamate more than a century ago when he extracted it from seaweed and noticed that it had special flavor-enhancing characteristics. According to the FDA, MSG is now produced by fermenting starch, sugar beets, sugar cane, or molasses.
Adverse effects of MSG
Some people claim to be sensitive to MSG or have responses to it. Some of the symptoms or  effects are:
Headache
Flushing
Sweating
Face pressure or tightness
Lack of feeling (numbness), tingling or burning in the face, neck, and other areas
Quick, fluttering heartbeats
Chest pain
Mood changes
Worsens asthma
Feeling sick (nausea)
Weakness
Black Pepper
History of Black Pepper
Black pepper, often known as "black gold" and "king of spices," is the world's most significant and extensively eaten spice. Pepper has been grown in India for thousands of years and was first brought to the West following Alexander the Great's worldwide conquests (4th century BC). In ancient times, pepper was so valuable that it was used to pay taxes, tributes, dowries, and rent.
Adverse effects of Black Pepper
Can cause gastrointestinal issues
Black pepper has been linked to stomach mucosal damage in studies. Another study discovered signs of gastric bleeding in an individual who consumed black pepper.
Can cause the throat and stomach to burn
Black pepper's piperine can have a harsh, 'burning' aftertaste. Though this is only a property of black pepper, it may cause a comparable burning feeling in your throat and stomach if consumed in excess.
Over absorption of drugs
Black pepper aids in the absorption of several medications. These include hepatic metabolism boosters and allergy-fighting antihistamines. Piperine is a bio enhancer that aids in medication absorption. Though this might be useful if a prescription is poorly absorbed, it could also lead to dangerously high amounts of overabsorption of some pharmaceuticals.
Impairs the effectiveness of drugs
Excessive use of black pepper has been shown in trials to impair the effectiveness of certain drugs. Essentially, it alters the intestinal biome, causing some drugs to have less of an impact on the body than they should. It can also cause allergic reactions when used with certain medications.
White pepper
White pepper has been utilized in European, Chinese, Vietnamese, and Thai cuisines for over 3,000 years. White pepper has a gentler, sweeter, and more warming scent than black pepper, and it's commonly used in fish, meat, instant noodles, soups, mashed potatoes, sauces, sandwiches, salad dressing, and mayonnaise. Anti-inflammatory, antioxidant, antimutagenic, and anticancer properties are among the many health advantages of white pepper.
Adverse effects of white pepper
It may produce a high heart rate, runny nose, sneezing, headache, and coughing.
Allergic reaction
Some people face allergies with symptoms like urticaria, conjunctivitis, facial swelling, and severe cough immediately after ingesting pepper.
Cinnamon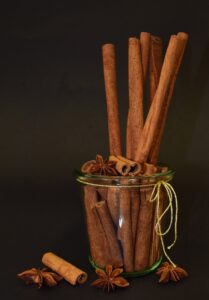 Cinnamon is a very common spice that is added to lattes, oats, and even pancakes. Its flavor is well known and sought out by many. However, there are a few dangers you should know about before consuming it.
History of Cinnamon
The true cinnamon, Cinnamomum zeylanicum, is a native of Ceylon (Sri Lanka) that dates back to 2800 B.C. in Chinese texts and is still known as kwai in Cantonese today. The spice is also referenced in ancient times.  Many biblical allusions to this spice may be found in Psalms, Proverbs, Ezekiel, and Revelations, where it is referred to by its Hebrew name, cinnamon.
Cinnamon was so expensive at the time that it was valued at the same level as gold and ivory.
It was also used in embalming practices by the Egyptians. During the Middle, Ages physicians used spice to treat cold and throat illnesses such as coughing, hoarseness, and sore throats.
Adverse effects of cinnamon
Could harm your liver
Cinnamon is a potent spice that has the potential to harm your liver and affect coagulation. Therefore, people should speak to their doctor before adding cinnamon or cassia to their diet if they:
take anticoagulants or other drugs
have diabetes
have a liver condition
For example, after only one week of using cinnamon pills, a 73-year-old lady suffered a severe liver infection that resulted in liver damage. However, the lady used supplements that offered a higher dosage of cinnamon than what is normally consumed through food alone.
Can increase the risks of cancer
Consuming too much coumarin, which is found in Cassia cinnamon, has been found in animal tests to raise the risk of some malignancies.
In rat experiments, ingesting too much coumarin created malignant tumors in the lungs, liver, and kidneys. The mechanism by which coumarin causes tumors is unknown. Some experts, on the other hand, feel that coumarin damages DNA over time, raising the risk of cancer. Since only animal research has been conducted to prove this theory, more human-based research is needed to discover if the same cancer-coumarin relationship holds in people.
May Cause blood sugar to drop too low
Chronically high blood sugar is a health issue. It can lead to diabetes, heart disease, and a variety of other health issues if left untreated. Cinnamon is well-known for its blood sugar-lowering properties. According to studies, the spice can imitate the actions of insulin, a hormone that aids in the removal of sugar from the bloodstream.
While a little cinnamon might help decrease blood sugar, too much can cause it to drop dangerously low. Hypoglycemia is the medical term for this condition. It can cause fatigue, dizziness, and even fainting. Cinnamon may improve the effects of certain drugs and cause blood sugar levels to drop.
Cinnamaldehyde allergy
Consuming too much of it might trigger cinnamaldehyde allergy, which causes mouth ulcers, white spots in the mouth, and itching on the mouth's inner lining.
May interact with some medications
With most drugs, cinnamon in modest to moderate doses is safe to consume.
If you're taking medicine for diabetes, heart disease, or liver illness, though, taking too much might be a problem. This is due to the possibility that cinnamon will interact with such drugs, either boosting or lowering their effects.
Excessive use of cinnamon may raise the risk of liver damage if you're taking drugs that influence your liver, such as paracetamol, acetaminophen, or statins.
Cinnamon can also assist decrease blood sugar, so if you're using diabetic meds, it could intensify their effects and cause your blood sugar to drop too low.
Cloves
Cloves are the flower buds of the clove tree, also known as Syzygium aromaticum, which is an evergreen. Cloves are well recognized for being fragrant and sweet spices.
This versatile spice comes in whole and ground forms and is used to season pot roasts, flavor hot drinks, and lend spicy warmth to cookies and pastries. Cloves are a common element in gingerbread-baked items and an important spice in Indian cuisine.
History of Cloves
Envoys from Java brought cloves to the Han-dynasty court in China as early as 200 BCE. The audience used them to improve their breath when visiting the emperor. Throughout the late Middle Ages, cloves were used to preserve, taste, and embellish food throughout Europe.
Clove farming was almost totally restricted to Indonesia, and the Dutch eliminated cloves from all islands except Amboina and Ternate in the early 17th century to create scarcity and keep prices high.
The French broke the Dutch monopoly by smuggling cloves from the East Indies to Indian Ocean islands and the New World in the second part of the 18th century. Indonesia was the world's leading clove grower in the early twenty-first century, followed by Madagascar, Tanzania, and Sri Lanka.
Adverse effects of Cloves
Common side effects of topically applied clove may include:
trouble having an orgasm (delayed ejaculation);
itching, rash;
mild skin irritation; or
sore gums, mouth irritation, bleeding, swollen gums or tooth changes after using a clove inside the mouth.
It can irritate the skin, eyes, and lungs, as well as create an allergic response in the skin. It's also combustible, and if eaten and gets into the airway, it may be lethal.
A 15-month-old kid died of liver failure after swallowing 10 milliliters (ml) of clove oil, according to one case report.
A 2-year-old toddler swallowed 5 to 10 ml of clove oil in another occurrence. The infant had a variety of medical issues, including a coma, liver damage, and blood clotting issues.
Clove has the potential to reduce blood sugar levels. Therefore, if you take clove with diabetic medicine, your blood sugar may drop too low. Keep a tight eye on your blood sugar levels.
Do not use gloves if you are taking diabetic medication, ibuprofen, or anticoagulant drugs.
Allspice
Allspice (Pimenta dioica), often known as Jamaican pepper or pimento, is a tropical evergreen tree in the Myrtaceae family that produces extremely scented berries. The West Indies and Central America are the natural habitats of this plant. The dried berry's flavor is reminiscent of cloves, cinnamon, and nutmeg, which is why it's called allspice. It's commonly found in mincemeat and mixed pickling spice, and it's extensively used in baking.
History of Allspice
Columbus discovered allspice during his second journey to the West Indies, but it was not widely used in Europe until the seventeenth century. Allspice appears to have been carried by Sephardic Jewish immigrants in Jamaica's Santiago de la Vega (Spanish Town) and Port Royal to other Jewish dealers in Old World ports like Constantinople, Venice, Genoa, Amsterdam, and London.
The English gave it the name new spice when it landed in London, and they became its most ardent fans in the Old World, using it in pickling brines for vegetables and other flavoring stews. Allspice became known as Jamaica pepper in many of its new destinations since the majority of its commercial output continued to come from Jamaica. It also grows on other West Indian islands, including Cuba and Barbados.
Adverse effects of Allspice
May slow blood clotting
Allspice can slow blood clotting. When allspice is used with drugs that decrease coagulation, the risk of bruising and bleeding is increased.
Allspice contains eugenol, which may help to prevent blood clotting. Eugenol is a fragrant compound that gives allspice and cloves their characteristic aroma.
Some medications that slow blood clotting include aspirin, clopidogrel (Plavix), diclofenac (Voltaren, Cataflam, others), ibuprofen (Advil, Motrin, others), naproxen (Anaprox, Naprosyn, others), dalteparin (Fragmin), enoxaparin (Lovenox), heparin, warfarin (Coumadin), and others.
Conclusion
Spices have many benefits and have long been a part of various cultures. Although most people use spices in food to add flavor as opposed to their original uses they must still be used with caution. If too much is consumed it can lead to a lot of negative effects on the body.